Event Documentation: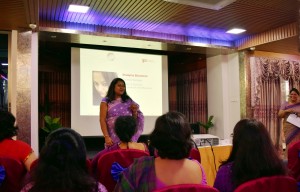 Balancing Work, Family, Community, Self: Can Working Women Have It All?
To commemorate International Women's Day on 8 March 2017, the Gender Working Group in GIZ Bangladesh organised a discussion session on a topic that has been under much discussion lately – Is it possible for working women to balance work, family, community and self? Can working women have it all?
Shwapna Bhowmick, Country Manager, Marks & Spencer, Bangladesh and Myanmar, spoke at the event. She said that representing her region in board meetings in London, where she is the only female among 68 other counterparts, is a big encouragement for her. Also the mother of a nine-year-old boy, she is not bothered by any obstacles in her path. Instead, she looks inward and pushes herself to give her best. Her team in Bangladesh is now the best in the world and this is the highest sourcing region for her company.
Tobias Becker, Country Director, GIZ Bangladesh, remarked that on International Women's Day, women are recognised for their achievements without regard to divisions, whether national, ethnic, linguistic, cultural, economic or political. He added that "Only 50 per cent of working age women are represented in the labour force globally, compared to 76 per cent of men. An overwhelming majority of women are in the informal economy, subsidising care and domestic work, and concentrated in lower-paid, lower-skilled occupations with little or no social protection. Hence, achieving gender equality in the workplace is imperative for sustainable development. I would like to mention GIZ's Gender Strategy, which was adopted by the Management Board in 2012. It says that GIZ aims to have a working environment where men and women can work together on equal terms and at a balanced gender ratio across all hierarchical levels and fields of responsibility."
The event also featured a presentation on famous women throughout history, along with their achievements and inspirational quotes. It was interspersed with two videos. The first featured Indra Nooyi, Chief Executive Officer of PepsiCo, who talked about "coping mechanisms" and "coopting the family" to help find a work-life balance.
In the second one, Anne-Marie Slaughter, foreign policy analyst and President and CEO of New America talked about the challenges of male-female equality and the changes needed in our workplaces, policies and culture.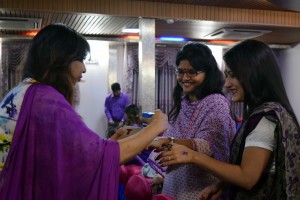 The general consensus was that there is no formula to achieve the perfect work-life balance and the definition differs from person to person.
Mr Becker also announced that GIZ BD has signed a contract with the professional day care service provider Little Steps, located in Gulshan, where both male and female colleagues can send their children aged six months to six years. He added, "We hope that this facility will not only enhance the work-life balance of our colleagues, but also help reduce stress levels and improve the productivity of our working mothers."
This article was written by Kaniz Fatema and Rezwana Huq. For further Information please contact Mehzabin Ahmed: mehzabin.ahmed@giz.de and Rezwana Huq: rezwana.huq@giz.de.
———————————————————————-
When: 8 March 2017, 3:00 – 5:00 pm
Where: Dhaka, Bangladesh.
With: Tobias Becker,  Shwapna Bhowmick