What? This interactive workshop focusses on strengths, weaknesses, opportunities and threats in relation to working with boys and men in conflict transformation and peacebuilding as a contribution to the promotion of gender equality. Resource persons from practice and science will give inputs during the workshop.
Where? B0.35 Bundesversicherungsamt (opposite of main entrance FEA)
When? 5th of March 2015,  1 – 3 pm
Contact persons: Michael Lilier, michael.lilier@giz.de and Lena Pönisch, lena.poenisch@giz.de. 
Link zum MenEngage-Vortrag bei der General Discussion of the Commission on the Status of Women United Nations, New York City, March 17, 2015: http://menengage.org/menengage-statement-csw-march-17-2015/
IMPRESSIONS OF THE EVENT AND BACKGROUND INFORMATION: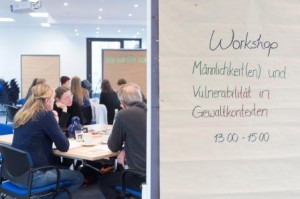 Please download a detailed documentation and illustration of the events organized in Bonn here: