Project: Open Regional Fund for South East Europe – Legal Reform
Country: Bosnia and Herzegovina
Category: GG1

Background information
Open Regional Fund for South-East Europe – Legal Reform
The ORF Legal Reform project is one of the six Open Regional Funds (ORF), which are commissioned by the German Federal Ministry for Economic Cooperation and Development (BMZ) and it is part of the "Strengthening of Good Governance in the Western Balkan Countries" programme. The project aims to improve regional cooperation between the 6 Western Balkan countries to implement legal reforms in the framework of EU approximation, with a special focus on fostering sustainable economic development. The term of the current phase of the ORF Legal Reform project is from January 2019 to December 2021.
The project activities are implemented through sub-projects, four of which are being implemented at the moment: Harmonisation of the legal framework for investment protection, Strengthening the Economic Empowerment of Women and Cooperation of the Judicial Training Institutions and Enforcement of cross-border judgements.

In addition to these sub-projects, the ORF Legal Reform supported the creation of a Legal Aid App in Bosnia and Herzegovina, as a response measure to the Covid 19 pandemic.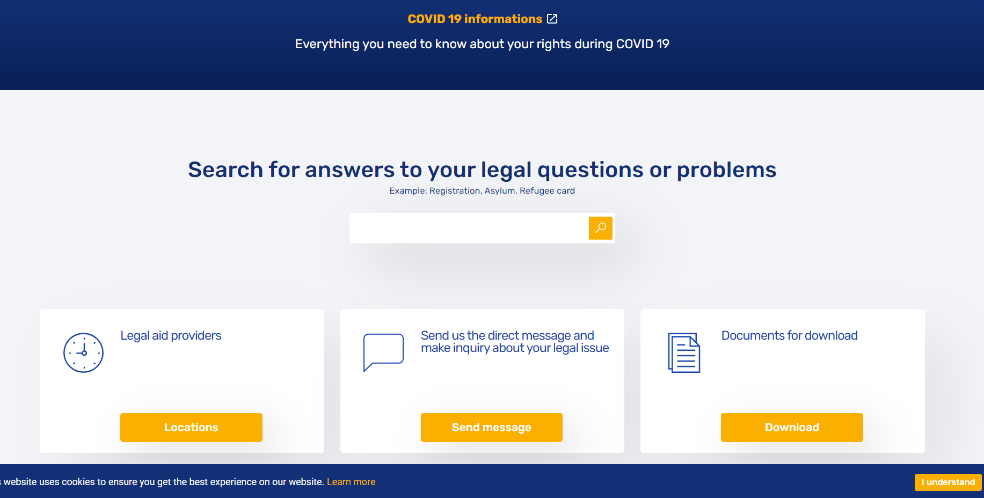 The COVID-19 pandemic has come as shock to our societies and economies, affecting people from all walks of life. These effects, although universal, did not have an equal impact on all citizens. As numerous empirical studies have shown, the pandemic has had the most adverse effect on women, both those working on the "font lines" in combatting the pandemic, and those defending the home front, taking care of their families, and balancing remote work, home schooling and daily household work.
The Covid-19 pandemic has brought to light some structural inequalities in accessing rights, from those related to healthcare to the economy, personal security to social protection. In times of crisis, when resources are strained and institutional capacity is limited, women and girls face disproportionate impacts with far reaching consequences that are only further amplified in contexts of fragility, conflict, and emergencies.
Responding to the pandemic is not just about rectifying long-standing inequalities, but also about building a resilient world in the interest of everyone with women at the center of recovery. And in the midst of this global pandemic, access to legal information and advice becomes difficult, if not impossible. In order to place all the relevant information and offer free legal services to those in need, especially women and girls as a vulnerable group, a web-based platform for legal aid was launched as a Covid-19 response measure in Bosnia and Herzegovina. The Legal Aid App has been helping citizens, since February 2021, to identify dangerous misrepresentations and remain informed on a factual basis, especially now in the time of widespread disinformation. The users of the App can take advantage of daily updates on the laws and regulations adopted at the state, entity and cantonal levels in response to Covid-19, and in other fields. In addition, citizens can ask direct questions through the app, regarding the legal issues they are facing, and request templates for documents of relevance for different. For women especially, this period during the pandemic has been even more difficult, considering due to double- load at work and household, schools were closed, and women had to take care of their kids at home, giving them a double-burden and provide them with less time to seek advise in person. The App gives them easy and little time-consuming access to advise, even from home.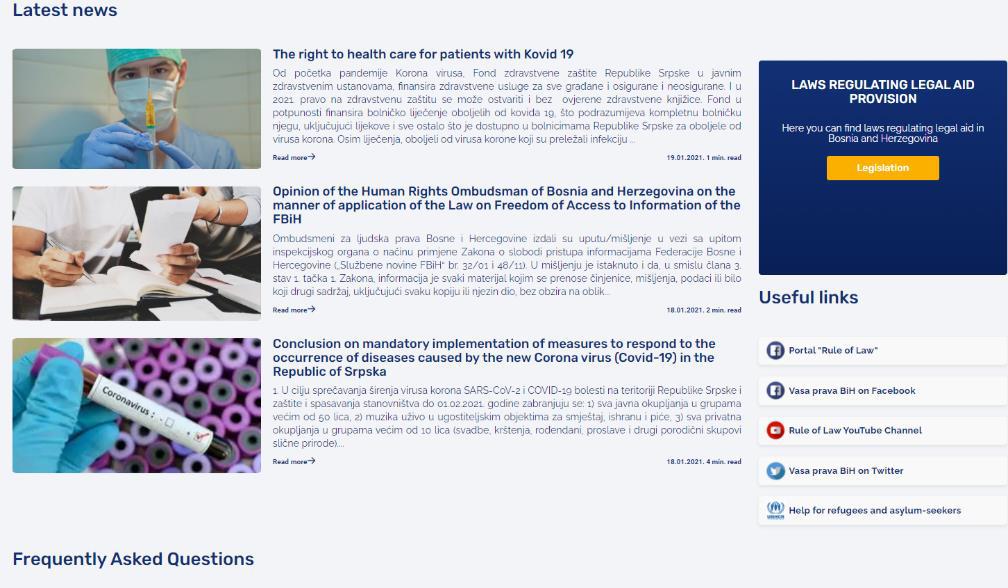 The attorneys working for the BiH NGO (Vaša Prava) will provide the responses to the citizens' questions and/or refer the citizens to their nearest Legal Aid Office, in case they need long-term assistance. The citizens who are eligible to receive free legal aid under the laws applicable in Bosnia and Herzegovina will be given priority. The Legal Aid App also provides a map of Legal Aid Offices around Bosnia and Herzegovina, which should enable the users to seek assistance in their local community if necessary. The legal aid app can be accessed through the browser or mobile devices on Vaša prava BiH (pravnapomoc.app). Moreover, the citizens can benefit from previous anonymized responses provided to other users.
Impact

Success stories
263 applications from February to November 2021.
Higher rate of female than male applicants.
Citizens are getting more comfortable using online communication for free legal aid.
Success stories include

protection of labor rights of a woman with disabilities,
protection of the right to equal access to education,
protection of property rights, increasing the rate of joint registrations of women as co-owners of marital property, exercising inheritance rights,
getting information about starting businesses,
A story of particular weight involved a woman who became partially disabled because of a progressing disease. After her diagnosis, her employer attempted to terminate her contract, due to her "inability" to continue her work considering her condition. As her disease did not in fact prevent her from properly performing her office job, the woman filed a request for free legal aid to protect her labor rights. After several months of a legal fight with the assistance of the NGO, the woman was reinstated to her position, with appropriate accommodation for her condition.
This is only one example of how access to concrete, reliable and effective legal assistance can have a life changing influence for women. The legal aid application provides a safe and accessible tool to help countless other women in need of legal aid (for property or personal issues) and protection (in case of domestic violence).
Some cases were referred to the highest courts in BiH or the competent international organizations.
Statistics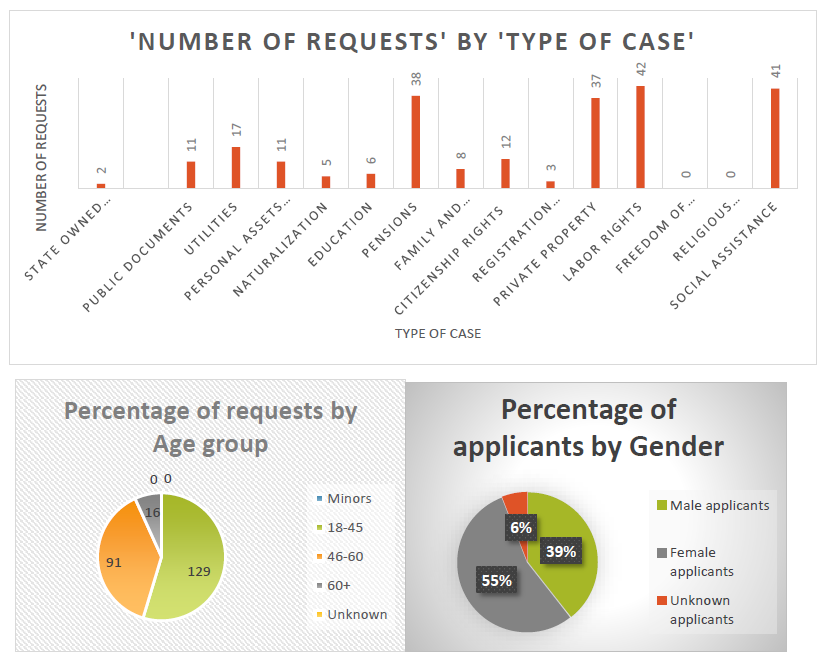 Follow up
Development of additional resources and templates to support the citizens.
Consideration of additional features of the legal aid app, including a chat bot, online call center and expanded database of legal documents.
Additional promotion, awareness raising and services to citizens.