A review on implementing gender issues in a male dominated work environment

South Africa has one of the most progressive, equality supporting constitutions in the world which states that: "No person may unfairly discriminate directly or indirectly against anyone on one or more grounds including race, gender, sex, pregnancy, marital status, ethnic or social origin, colour, sexual orientation, age, disability, religion, conscience, belief, culture, language and birth". In 2017 the "rainbow nation" ranked amongst the first 20 countries of the World Economic Forum's gender equality index. At the same time South Africa has still a Gender Inequality Index coefficient, which is below average and indicates gender-based disadvantages regarding reproductive health, empowerment and the labour market.
Since reports, policies, statistics, laws or even constitutions can be vital guidelines, they remain words on white paper unless these words can find their way to such readers who understand to transform them into action, behaviour and devotion.
Therefore, we would like this report to be read as a first-hand description about how small activities and behavioural changes can cause an effective impact wherever gender inequality hinders development.
The Framework
Like in many other partner countries, the Gesellschaft für Internationale Zusammenarbeit (GIZ) in South Africa supports the development of bilaterally agreed on specific foci. The second phase of the Skills Development for a Green Economy (SD4GE II) -program is one pillar of the GIZ-ZA commitment and aims to support the Ministry of Higher Education, Science and Technology in implementing a demand driven, and private sector orientated vocational training system (VET- Vocational Education and Training).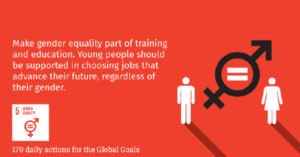 Setting up a new national VET structure is less complicated than changing an existing one, especially within an economically shrinking environment. Over the years South Africans faced several pathways of becoming a craftsperson and along that line plenty national regulators, NGO´s, associations and public and private colleges mushroomed and sometimes established a strong and dominating stand in the vocational training sector. But – in comparison to an academic pathway, "blue collar" jobs especially in the craft sector hardly ever received the needed support and attention from government side or from the private sector. Hence, the lower wages and the lack of practical quality education led to a stigmatized reputation of being or becoming a craftsperson.
To boost the practical side of apprenticeships the SD4GE II program not only supports the South African Government in building up a combined workplace/school learning model, it equally aims to stimulate the private sector involvement in order to move the ownership of VET education to that side, which knows the challenges and innovations of a vocational profession best. Trade and craft associations are therefore now directly involved in the handling and monitoring of apprenticeships in the two "pilot" trades of electricians and plumbers, meaning – industry associations do act as lead-employers for the apprentices and form bridges between the participating companies and the selected colleges as well as being the linkage between the program planners (Ministry and GIZ) and the private sector.
The Association

Where and whenever organised work is conducted individuals, companies and craft sectors form interest groups like fraternities, cartels or associations to protect their concerns. For the South African Plumbing sector this happened exactly 30 years ago when a small bunch of plumbers started to meet in private and immediately formed IOPSA – The Institute of Plumbing in South Africa. Since IOPSA grew strong within the development of a liberated new South Africa the inclusion of previously disadvantaged groups (which formally includes women of all ethnic groups) was and remains vital for the transformation into an internationally linked and holistically acting association.
Due to the theory-based training models of the recent past IOPSA decided to focus on alternative and modern ways of transferring technical knowledge and also developed a lifelong learning system for all registered plumbing companies (CPD – Continual Professional Development) to improve and keep standards within the industry. Those pro-active measures initiated the wish of the GIZ-SD4GE II planners to include this strong partner in the implementation of Dual System Pilot Program (DSPP) and in March 2019 a GIZ – development advisor was added to the IOPSA team in order to enhance IOPSA's role as lead employer for the apprentice program and to strengthen the link of the GIZ development initiative to the private plumbing sector. By nature, the role of a seconded development advisor is to serve two masters. This could lead to situations where conflicts of interest need to be solved, but in the same way can create tremendous synergies between the local and the international partner.
Woman in Plumbing
Since the cooperating partners IOPSA and GIZ SD4GEII set their operational plans based on policies, indicators and aims, the development advisor (DA) is able to build upon and to refer back to previous developments and activities of both partners. The GIZ program output indicators are set to enrol (percentagewise) by far more female apprentices than the actual statistic of gender participation within the plumbing sector really is. Currently only 2% of registered Plumbers but 54% of the IOPSA training students are woman. Two out of a hundred sounds quite low and it could be seen as an urgent call to solve this mismatch, but even the plumbing sectors in European countries, who do have gender policies implemented as well, do not exceed 1.6% of having "Woman in Plumbing". On ground of this, the common aim of the cooperation in this training initiative is not to reach balanced numbers for the sake of creating a "fair and levelled" playground but is to instrumentalise gender related activities in order to enable woman, man, employers and the industry at large to think "out of the box " and to realise that the inclusion of females, especially in an male dominated environment, can only be a benefit in all aspects of business and society.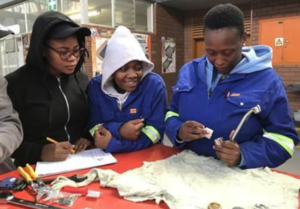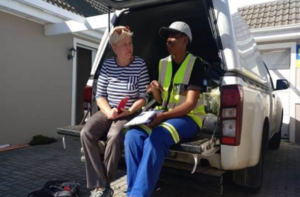 To give a practical example of how little measures can cause huge waves the development advisor of the cooperating partners (GIZ, IOPSA) invited a female master plumber from Berlin, who runs her own plumbing company and linked herself to a GIZ global program called "Skilled Crafts and Trades Network 4 Africa". For South Africa this continent-wide operating initiative is directly linked to the hosting skills development program SD4GE II and promotes the exchange of knowledge and craft experts related to vocational education and training (VET).
Upfront the German master plumber woman and the development advisor worked out a schedule for a two-week work program, which included training for the plumbing apprentices and their teachers at two vocational colleges and at the same time interviews with those employers, who host female apprentices, and of course the female learners themselves. As part of the program the small team was able to report back to IOPSA and GIZ on two additionally prepared events. The association regularly holds regional "Plumber evenings" where local plumbers gather to keep themselves updated about latest developments in the sector and to chat about plumbing. This time the focus of the meeting was on women involvement in plumbing, and it was quite interesting to see, that all present plumbers silently and carefully listed to the plumber colleague from overseas and her experience as a woman master plumber. The second event, where findings of the mission were shared, was the IOPSA "Woman in Plumbing" event on world woman`s day. The South African Government actually declared the whole month of August as Woman's Month in memorial of 20000 women, who marched to the Unions Building in 1956 to protest against the unjust pass laws enforced on them.
Some interesting findings from the conducted interviews are, that the female apprentices and the employers at the same time clearly stated, that plumbing companies who employ woman do have a better relationship between its workforce and the management, which directly leads to enhanced productivity. Harassment and physically sexual offences at workplaces where many different companies have to work at the same time, are only conducted by workers of companies that do operate without any female participation – simply because: they do not know better. IOPSA therefor encourages its members to abandon the classical prejudices when it comes to employing female plumbers. Most of those atavistic views are only excuses and sometimes even ridicules.
Some employers, who obviously struggled for arguments, mentioned that they don't have extra toilets for females, but after reminding them that they are plumbers and could easily change that state, they seemed to realize the weakness of their statement.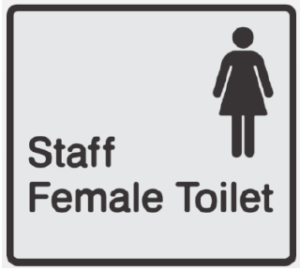 Even the argument of the different physical capabilities between the sexes lacks its grounds since even plumbers had to face three industrial revolutions. Therefore, in the long run it will always pay out to train or employ educated workers instead of relying on those, who boosts that they can carry a 200-liter water boiler to the attic of a house on their own. By the way, the effectiveness of such a strong person will only last until the first spine issues occur and the employer finds her/himself driving the super-worker to the hospital on a daily basis.
Keeping up the pace and things to come
In order to share those small but important experiences IOPSA and the seconded DA are able to use several established communication channels. A monthly sector publication, the plumber evenings and weekly webinars called "tech-talks" are popular and wide-spread amongst IOPSA's members and reach out to non-members as well. The internal M&E system of the SD4GE II program collects data in the form of actual numbers, events, reports and news for the purpose of using the information for example to conduct sector related industry studies, to monitor the program progress and for reporting purposes as well.
South Africa's Plumbing sector has started to experience and to value not only the economically advantages of investing in quality-education and of including the neglected 50% of its population – but also realized again, three decades after the peoples struggle for independence, that things only work out, when done together.
At IOPSA "Gender" is no longer a cross-cutting issue, but a driver of the association and of the sector it is representing. "Woman in Plumbing", who run companies in the second "female" generation, won twice in a row an industry award and who invests time to serve on committees at highest level, are starting to enrich, to change and to lead South Africa's Plumbers.