Introduction:
The GIZ Food and Nutrition Security, Enhanced Resilience Project (FaNS) is part of the global special initiative 'One world – No Hunger' of the German Ministry of Economic Cooperation and Development (BMZ). FaNS aims to improve the food and nutrition situation for women of child-bearing age, pregnant and lactating women, and small children from vulnerable communities in Madhya Pradesh, India. It has been globally recognized that gender equality and women's economic empowerment are a key prerequisite to ensuring the right to adequate food, achieving food security and improved nutrition for all, and ultimately for realizing the 2030 Agenda1. This fundamental requirement is central to the activities being implemented by the FaNS India project.
Amongst other interventions, FaNS is working with women Self-Help Groups (SHG's) to establish Community Nutrition Gardens (CNGs). The objective of these CNG's is to enhance dietary diversity at the community and household level by providing economic independence to the women. Considerable evidence shows that increasing women's bargaining power is key in increasing the allocation of income to food budgets and other household's needs (Hoddinott and Haddad 1995; Duflo and Udry 2004 and Malapit et al. 2014). Therefore, as a unique feature of this intervention, GIZ-FaNS India project coupled the food (fruits and vegetables) production activities undertaken by women Self Help Groups (SHG's) in the community nutrition gardens with income generation. As a result of this intervention, women in the Chhatarpur and Sheopur districts of Madhya Pradesh are leading the way of empowerment. Now they not only have better access to fresh food and vegetables but are also contributing to the household economy by setting up community nutrition gardens.
Situation Analysis:
According to the World Economic Forum's Gender Gap Index, India ranks 108 (same as 2017). Even though the country is making rapid economic growth, gender inequalities are spread across political, educational, employment and social spheres. The agriculture sector is most effected due to this gender gap. As per OXFAM 2018, agriculture sector employs 80% of all economically active women in India, they comprise 33% of the agriculture labor force and 48% of the self-employed farmers. Despite their large contribution women continue to remain invisible in the rural economy of India. They are mostly treated as an auxiliary agricultural work force in this male dominated sector. Women economic empowerment in agriculture is challenged by constraints such as land ownership, patrilocal residence, low literacy and awareness, obstructive movement, traditionally institutionalized gender roles and male dominance in administrative, judicial, and other public decision-making bodies at all levels. Therefore, women are often found in the disadvantaged group in this largely patriarchal society which leads to gender inequality, gender differentiated social norms and cultural barriers.
The over generalization of women roles at macro, meso and micro level, affects power dynamics in the households as well. With men being the primary bread winner, women do not have any decision-making authority in the distribution of resources such as food, water, health care, education etc. They are envisioned to perform all the domestic tasks as per the directions of male members of the family. The homestead kitchen/ nutrition gardens are no exception. With kitchen gardens women are confined to the household boundaries and lack awareness about their rights and entitlements (For eg: provision of getting job cards under government schemes whereby they can generate income by doing public work in villages). They never get the opportunity to work with local government bodies and never question the pre-defined gender roles. Hence, women lack a sense of self-worth, have low self esteem and confidence and do not freely participate in community events/ activities.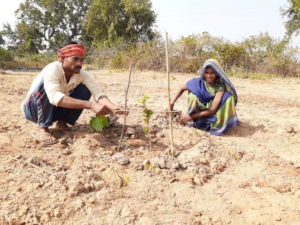 Community Nutrition Gardens (CNGs):
Unlike the traditional homestead kitchen/ nutrition gardens, which are seasonal and provide 2-3 vegetables only, CNGs are established on the principle of sustainability on a free community land. CNGs are planned to promote year-round availability of fruits and vegetables and provide income generation opportunity for women in rural Madhya Pradesh, India. The approach of CNGs in participatory in nature and women SHGs are at the center of the activity. They participate in the planning and implementation process and are also the income recipient.
This activity was initiated by organizing an exposure visit in August 2019 to the Dhamtari district of Chhattisgarh, India, where such a model of CNGs was successfully implemented. This exposure visit already challenged the patriarchal social structure of India which dictates women's access to and control over livelihood resources. Through intensive advocacy supported by district administration and local government bodies, women actively participated in the trainings organized by the local NGO partner (Parmarth Samaj Sevi Sansthan) in cooperation with the Krishi Vigyan Kendras (KVKs) i.e. farm science centers at the district level. Women are trained in practices like organic farming, vermicomposting, crop rotation and use of bio fertilizers, which has largely been in men's domain. Following completion of trainings, natural and bio-fortified fruits (custard apple, mango, guava, lemon) and vegetables (tomato, peas, spinach, beans etc.) of high nutritive value were planted in 20 CNGs on a land of 72 hectares (72,000 m2) by women SHGs. In total, 54,000 fruit trees will be planted and intercropping of seasonal vegetables will be done. This activity is providing employment to 240 women and is ensuring better nutrition and dietary diversity to around 20,000 people. Women receive monthly wages for the upkeep of the plants from local administration under the Mahatma Gandhi National Rural Employment Guarantee Act (MGNREGA: https://nrega.nic.in/netnrega/home.aspx). Each participating women SHG member is entitled to wages under MGNREGA at the rate of Rs 15 per plant per month for safeguarding a maximum of 200 plants, which adds up to Rs 36,000 (Euro 460)/per year for a woman, which is more than twice the amount paid to beneficiaries under MGNREGA (100 days of employment in a year at a daily rate of Rs 176 totaling Rs 17,600 (Euro 225). Government schemes are funding Euros 8,200 for each CNG site of 1 hectare (10,000 m2) and in total we have been able to mobilize government funds of Euros 163,000 which is partly being distributed to the women's engaged in CNG activities as wages.
Women are responsible for maintenance of the CNGs and will be responsible for the harvest as well. Since it's an income generation activity supported by government the women involved in the uptake of the process have an inherent interest to take care of the plants. Foreseeing the success of this activity and the influx of enthusiasm and women's initiative, the local governance bodies are now making an agreement between the women SHGs and rural mother and child health care centres (Anganwadi Centres) to provide these centres weekly with free vegetables and fruits. The centres are also run by women (Anganwadi Workers).
This activity is contributing to the nutrition and economic status of women and has also contributed to the environment through a better micro-climate, checking soil erosion, flood control, providing food, fuel, fodder and timber. With the year-round availability of local seasonal vegetables and fruits, families can adopt a diverse and balanced diet. Women are also starting to make a say in the patriarchal society through the participatory approach used in this CNG activity. It is also adding to the coping strengths of the community towards slow disaster i.e. drought and will address the issue of seasonal migrations as well since there will be employment for women in summer months and availability of fruits and vegetables.
Through testimonials, it is evident that with this activity women are getting better equipped in taking care of their nutrition needs, even when men will migrate during summer months in search of labour jobs.
"I have always set up a kitchen garden in the backyard of our house, with my kids and household work I don't get time to take care of it and it would be demolished in summer season due to water shortage. So, we had to buy pesticide contained vegetables from market. We cannot afford fruits with low family income. Now, with CNG, I work with other village women and grow our own good quality fruits and vegetables. The best part is, I also make money from this activity. This has earned me respect from my husband, family and other villagers" – Gansi Bai, Ragoli Village, Chhatarpur district, Madhya Pradesh.
Through advocacy with government departments and community mobilization, this model of CNGs can be successfully upscaled and replicated in other locations. Depending of the geographies and soil conditions, fruits and vegetables grown can be decided. The surplus produce from the CNGs can also be sold in the market and hence will add to the holistic economic growth of the community.
Cooperation and Learnings:
The concept of CNGs in the FaNS project has been adapted from a successful model implemented by the Water Security and Climate Adaptation in Rural India (WASCA) Project of GIZ India in the Dhamtari district of Chhattisgarh, India. Building upon WASCA's success an agreement was made between both the projects to further address nutritional security with the involvement of women SHG members to promote commercial vegetable and horticulture cultivation for sustainable livelihood and nutrition outcomes.
The CNG activity has been institutionalized under the Ministry of Rural Development's MGNREGA and organizational support is provided by the district's tribal development, horticulture and forestry departments. High-quality fruit seedlings and vegetable seeds were procured by the implementing NGO, Parmarth, at subsidized rates from district nurseries. Parmarth is also engaged in community mobilization and capacity building initiatives to ensure success and sustainability of this activity. The technical know-how related to plantation, soil management, irrigation is provided by Krishi Vigyan Kendras (KVKs) i.e. farm science centres at district level.
The convergence of government departments at district level is very crucial for the success of this model. Since women's roles are pre-defined, the necessary government orders provide an impetus in the society and help in overcoming the caste barriers. The government officials actively participated in the awareness initiatives organized by implementing NGOs and this helped in convincing all men and women about the positive outputs of this activity. The involvement of women as trainers by the NGO partner also helped in breaking the cultural norms and women talk freely with them and openly discuss their issues. The additional income generated from CNGs empowers women and is contributing to shifting control over household resources.
The way forward:
The contribution of this activity to the socio-economic status of women is promising. Women have now started to challenge the pre-defined gender stereotypes in the male dominant sector. Though their recognition has increased but there is a need for continuous efforts to bring a long-term change in the society. Transforming the power asymmetry will require holistic efforts and investment. Therefore, we plan to utilize the award prize by undertaking intensive women awareness campaign in our project location on linkages between agriculture and nutrition and further upscale the community nutrition gardens. The possibilities of cross learning through south-south exchange will also be explored.