Introduction
In November 2019 the German Parliament agreed that from January 2020 the tax on sanitary products – the so-called Tampon Tax – would be decreased from 19% to 7%. At this year's Menstrual Hygiene Day (28.05.) PtS Flachsbarth (http://www.bmz.de/20180525-1) positioned herself clearly and highlighted the need to pay attention to Menstrual Health and Hygiene Management (MHM). There is growing global momentum around addressing menstruation as an important health, WASH, education and gender equality issue. However, mainstreaming MHM is an ongoing process and it takes further initiatives to address this in a holistic way. The GIZ employees working on MHM have been involved for a significant amount of time and organised themselves to put MHM on the development agenda both abroad in partner countries and in Germany.
Menstruation is a normal biological cycle experienced by many women world-wide. Yet, there are so many taboos and stigma attached to the topic. Ineffective MHM impacts the health and well-being of girls, affects their school performance and reinforces gender inequalities and exclusion. Especially in low-and middle-income countries, it is difficult for girls to practice optimal menstrual hygiene in school due to insufficient knowledge about menstruation, persistence taboos, myths and harmful societal beliefs. The GIZ can function as an example sending the message that MHM matters and is a truly global issue for millions of women and girls.
A multi-sectoral group of GIZ colleagues is already involved in organising learning exchanges and networking about MHM. Since 2018 the GIZ Sector Programme Sustainable Sanitation together with the GIZ Support to the Health Sector Programme (S2HSP) Nepal has been organizing 'GIZ interner Fachlicher Austausch zu Menstrual Health und Hygiene Management (MHM)' and reached out to other networks such as MHM Practitioner Alliance Nepal and the Sustainable Sanitation Alliance (SuSanA) as well as global initiatives let by UNICEF, Columbia University and London School of Hygiene and Tropical Medicine (LSHTM). The idea was to bring together colleagues – working in different sectors and countries – interested in the topic to discuss on possible ways to incorporate MHM in their respective programmes, projects or to partner organisations. Additionally, colleagues could learn from each other and in turn, support partner programmes, projects and national/global networks. MHM is a cross-cutting topic and so far, the five knowledge exchange meetups have brought together colleagues working on sexual reproductive health related programmes, school health, WASH and sanitation programmes, gender equality and empowerment programmers, education, values and religion as well as waste management. Furthermore, the sector programme Sustainable Sanitation, the Regional Fit for School Programme and the global programme Sanitation for Millions ensure to position MHM-related content on the agenda of national and international events and conferences. Sharing expertise from interventions in several countries at the Stockholm World Water Week, at the International Learning Exchange on Wash in School in Manila, during a Knowledge Exchange in Zambia or within public events on this year's MH Day in Berlin are just some examples.
Based on the feedback received from colleagues from various sectors and departments,
we aim to expand the scope of the initiative beyond learning exchanges and incorporate approaches to ensure MHM is mainstreamed and stigma around the issue reduced. We aim to:
 Continue hosting the 'GIZ interner Fachlicher Austausch zu Menstrual Health und Hygiene Management (MHM), that brings together GIZ colleagues working in different sectors like health, WASH, and education in order to exchange knowledge and information on menstrual health and hygiene and how to possibly work on this topic even though it may not be the focus of their respective programmes and projects. The raised awareness means that more colleagues might get involved and we could plan to have more frequent knowledge exchanges and promote informed choice.
 Provide a platform for building synergies, identifying possible entry points for integrating MHM into existing programmes and projects.
 Provide a networking opportunity for colleagues who are passionate about gender related topics and the opportunity to develop creative ideas to tackle such issues.
As of now, apart from information and knowledge sharing, through the learning exchanges, colleagues have identified gaps and synergies that they could work in as individuals but also pitch the ideas to their respective programmes. Contributing to this success were the colleagues' interest to engage with this topic starting at a point where it was not receiving much attention. Furthermore, it is great that involved colleagues who willing to communicate frequently about overlapping MHM issues, to ensure that developments of MHM components are according to research findings.
In this regard, we plan to establish and coordinate the following activities to raise the awareness of MHM issues within and outside of GIZ:
 Awareness rising within GIZ
 Hand out a GIZ Germany-wide survey inquiring about menstruating individuals' wants and needs concerning the accessibility, availability and disposal of sanitary products in the GIZ offices. Particularly the needs of menstruators in workplace contexts, is significantly overlooked issue. So far, sanitary products are available only upon awkward request at the café in GIZ House 1 (Eschborn). The survey aims at assessing the support and interest among menstruating colleagues for the availability of hygiene products in bathrooms or office rooms. The survey gives participants the option to bring forward their ideas how they would like to see their menstrual needs catered to.
 As part of this survey interested colleagues can sign up to become "MHM Co-creators". The GIZ´s contributions mean that we aim to buy some sustainable sanitary products and colleagues going on work trips can take these to the national office and place them there. Colleagues can be ambassadors of change, promoting the mainstreaming of MHM.
 Organise Brownbag Lunches with input from start-ups and other engaged actors working to promote sustainable sanitary products. This would raise awareness and point out the diverse interlinkages that the thematic offers: financing menstrual health (the case for her), environmentally friendly products and waste reduction (Einhorn), tampon tax advocacy (WASH United), and others.
 The idea is to combine the discussion round with setting up a display of different types of sanitary products available globally. This would function as an informational display at a GIZ space allowing colleagues to inform themselves about the Menstrual Health and related challenges. Colleague can also learn of ecological friendly menstrual absorbents and hopefully be advocates for climate friendly absorbents.
 Advocacy on MHM
 As part of the organised events we would plan to set-up an event in the weeks upcoming to the annual MH-Day on the 28th of May. This May the Sector Programme Sustainable Sanitation and the Sector Programme Values, Religion and Development in collaboration with the Studierendeninitiative Weitblick e.V. organized a successful panel discussion and documentary film "Period. End of Sentence" screening at the Heilig-Geist-Kapelle (Humboldt University) in Berlin. The discussion brought together different stakeholders from the Ministry of International Cooperation and Development (BMZ), media, and the general public. Mr. Muruganantham – the Indian Pad Man – recorded a personal video message for the MH day event in Berlin (https://www.youtube.com/watch?v=Ojt8FAPvqBQ) which was truly a highlight and shows that the GIZ is a prominent actor in MHM.
 Cooperation on environmentally friendly menstrual absorbents and support local initiatives working on MHM
 Start a cooperation with a start-up producing environmentally friendly sanitary products and obtain these at cost. The products would then be available in GIZ Germany´s staff bathrooms (potentially vending machines) and sold a cost with the option to donate a small sum.
 The profit would be used to finance a sanitary-pad machine in Nairobi, Kenya. Since 2018, Brenda Mbaja Lubang'a (Sector Programme Values, Religion and Development) has been involved in a local community-based organisation Dandora slums, one of the biggest dumping sites in Nairobi, Kenya. Positive Young Women Voices is a community-based organization which started as a self-help group in the year 2014 but later registered as a community-based organization in the year 2017. The idea of group formation was derived when few female advocates noticed there were major challenges facing young women and girls living with and at risk of HIV within the Nairobi slums of Dandora. The major challenges include teenage pregnancy, poverty, gender-based violence, access to female-friendly health facility, and information. The group provide linkages and referrals, creates awareness and offer information. Many of the girls also explained that they became victims of sex for sanitary towels. Since 2018, through a Facebook initiative 'adopt a girl month initiative' (see figure 1 below) the group has had been able to raise small funds to buy and distribute sanitary towels among high schools' girls (between 14-20 years) in Dandora slums in Kenya. In addition, to distributing sanitary pads the group has been educating both girls and boys on sexual reproductive health and bodily autonomy (see figure 2 below). In November 2019, Deutsche Welle published a documentary featuring the work done my Positive Young Women Voices in their community.
 Fundraising for purchasing sanitary pads has been very challenging. The group aims to find a sustainable way to provide sanitary pads and for disposing the used pads. The raised funds from the sold sanitary products at the GIZ Germany office would allow them to support the young women community-based organization in Kenya to obtain the low-cost sanitary pad producing machine. With such a machine, the young women
1.12.2019 Changing Norms on Menstruation Page 4
in Dandora slums can start producing low-cost sanitary pads, which they can sell in the community and also distribute to the girl's ins school at a low cost. A packet of sanitary pad in Kenya with 9 pads inside cost about 1.30 Euro. In comparison a packet of low-cost biodegradable pad (produced using the Arunachalam Muruganantham low cost pad machine) with about the same number of pads costs only 0.45 Euro.
All these above planned activities would further strengthen the involved employee's cooperation and outreach to the global network.
As part of the Fachlicher Austausch zu Menstrual Health und Hygiene Management (MHM) it was possible to compile an estimation that more than 4 Million children and adolescents (grade 5 and 6 Elementary Students and secondary students) have been reached by GIZ programmes with MHM components. It would not have been possible to obtain a fuller picture of how many children have been reached by MHM components of different GIZ programmes without the exchange format "Fachaustausch". The global numbers show that the GIZ is one of the Top-organisations in the MHM field globally.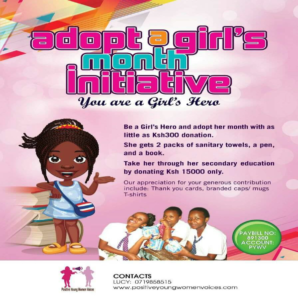 Figure 1: Poster from Adopt A Girl Sanitary Towel Initiative