GENDER WORKING GROUP OF BRAZIL: INTERNAL AND EXTERNAL MAINSTREAMING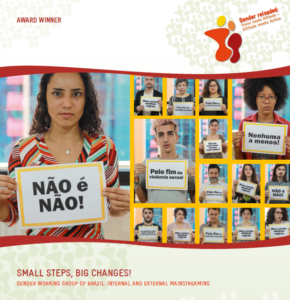 Gender Competition 2020 – Gender Mainstreaming – 3rd Place
CONTEXT AND INITIATIVE
In Brazil, gender-based inequalities permeate the economic, educational, political, health, safety and work spheres. They are historical and structural inequalities that represent obstacles and difficulties in the daily lives of women and the LGBTI+ population. These structural inequalities impregnate the working environment, since it is inserted in the social context from which unequal relations arise. Aware of this, since 2012 the Gender Working Group of GIZ Brazil has been developing activities among staff, as well as in projects and with partners, promoting gender issues and giving advice on the agenda. Currently, the WG consists of 20 gender focal points in the tropical forests, energy and communication sectors as well as the administrative center of GIZ Brazil. One Gender Focal Point serves as the group's contact and spokesperson.
GENDER – A QUALITY FEATURE OF OUR WORK
The GIZ Brazil Management Team accepts advice from and supports actions of the Gender WG, which among others facilitated capacity building measures featuring e.g. the new GIZ Gender Strategy, the Safeguards+Gender Management System and the Women's Empowerment Principles. In addition, the group organized awareness-raising events such as (1) the monthly "gender cinema" addressing gender stereotypes in day-to-day life and in the media and (2) annual masculinity weeks to actively promote the role of men as agents of change in favor of gender equality. The group also produced visual materials to increase its outreach. Examples are (1) the folder "What is Gender?", which provides definitions on gender identity, sexual orientation, biological sex, pointing out their differences and also guides on how to create an attitude that values respect and equity in the workplace, (2) the leaflet "Race and Gender Intersectionality" with a broad glossary containing terms like race, ethnicity, colorism and (3) a Toolkit on how to promote Gender and Human Rights in different spheres of the GIZ Brazil personnel activities (in projects, inside teams, with consultants, etc). Externally GIZ Brazil cooperate with UN Women and members of the German Brazilian Cooperation to promote Gender Equality, Inclusiveness and Non-discrimination.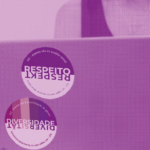 GENDER IMPACT
In 2018 GIZ Brazil launched its policy against sexual harassment and gender discrimination at the workplace and established a concrete structure to deal with it, including two staff members – national and international – overseeing its implementation and evaluation, as well as counseling and receiving complaints; and one external person of trust, hired to advise and receive complaints on issues of sexual harassment and gender discrimination in the workplace. Related to this the gender group developed a manual on inclusive and non-sexist language and a specific section on the code of conduct for the Terms of Reference for hiring national external consultancies. The response from the evaluation of the first year´s implementation of the policy was very positive. In 2019 one of the six objectives set in the country planning was to promote gender mainstreaming in projects and GIZ Brazil. Since July 2019 two dedicated technical advisors are tasked and mandated to advise on and monitor the gender responsiveness at project and portfolio level.
Contact:
Juliana Pinto, Sarah Flister, Karina Almeida,
Ariadne Santiago
E juliana.pinto@giz.de
sarah.flister@giz.de
karina.almeida@giz.de
ariadne.santiago@giz.de
Full information Roll Up: GENDER COMPETITION 2020 Contributions SERIES I 9
Competition Entry: 74 EN Gender Working Group Activities Brazil Competition 2020
Presentation at Gender Award Ceremony: GM 03 PPT GIZ Brasil Juliana Pinto
Have a look at the pictures of the Gender Award Ceremony on March 03, 2020: