International women's day is a big day for inspiration and change. In this networking session many female colleagues from different projects came together to exchange and share their thoughts and experiences.
Verousckha from the transport project sparked an energised and focused conversation on different statements concerning gender equality. Guiding statement amongst others were:
❖ Gender inequality does not exist (within GIZ).
❖ Men are better with math/science/IT.
❖ I wouldn't trust a female car mechanic.
❖ I want my kids to be raised by female caretaker.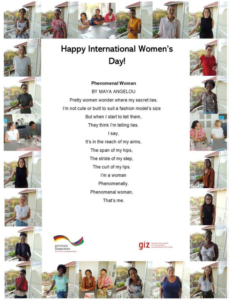 Contact Details
Name: Julia Schmitt
Email:
julia.schmitt@giz.de