"GIZ Kosovo marks gender week with lively debates and reflection of its own gender perceptions"
Like previous years, the GIZ Kosovo Gender Group marked the Gender Week with two interesting events – this year with a special emphasis on reflection of gender stereotypes among the staff of GIZ Kosovo and a discussion about stereotypes in education textbooks used in Kosovar schools.
GIZ Kosovo speaks #BalanceforBetter
During a period of two weeks in February, all GIZ colleagues were asked to cast their vote, respectively their level of agreement to specific statements such as:
– I want my kids to be raised by a female caretaker
– Men shouldn't cry
– Men make better AV's
– The man is the head of the family
– Women wearing short skirts are easy to get
– Men are better with math/ IT
Contextualized by the results of a Kosovo wide study (A man's perspective on gender equality in Kosovo) with more radical statements, tackling rape culture in the Kosovar society or gender-based violence in families as well as openness towards sexual diversity, the results of the GIZ internal survey were discusses. The general conclusion is clearly, that GIZ staff shows higher gender equality norms than the general Kosovar society and the colleagues clearly disagree e.g. with the statement that men could better handle IT issues then women. However, it can also be stated that also GIZ colleagues are still prone to inherent traditional gender roles when it comes to household duties.
The aim of the survey and the event was to reflect about our own perceptions of gender and sexes and to raise awareness for breaking up stereotypes, especially when it comes to raising children and when it comes to interaction with men and women on a daily basis. The event was very well attended and most colleagues could bring in individual experiences of daily discrimination or gender-specific societal expectations. It was complemented by a presentation of the new GIZ gender strategy and the GIZ sexual harassment policy.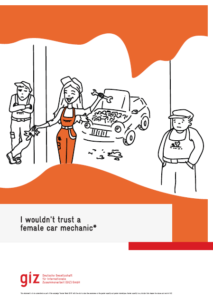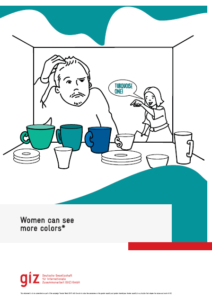 Illustrations author: Yllka Fetahaj
Contact Details
Name: Julia Becker
Email:
julia.becker@giz.de