Celebration of Gender Week in GIZ Afghanistan
This time GIZ Afghanistan has successfully celebrated a full gender week package of five different programs in different days.
The first program was Awareness building game and open discussion on sexual harassment. which was very much welcomed and appreciated by participants from different GIZ Projects. The next presentation was, Role play and open discussion on Gender Based Discrimination. Participants were very happy and was taking active parts on discussions and everyone found it interesting during this gender week. The third one was, Female Leadership Introduction And question answers about the program. as GIZ Afghanistan is currently running a program that aims to empower potential female national employees for taking over more responsibilities in leading positions and fill the gender gap.
The program has been explained very well to the participants that the targeted or eligible females could elaborate more on questions and concerns they have about the program, which was pointed as an informative one for the participants. The other topic was; Movie and Art About Women Development which also had open discussions on lesson learnt and how we can further take part on women development in our level. The final program was the celebration of Women's international Day with the participation of hundred plus participants from GIZ different projects and main office. the main contents of the event were outcomes of gender activities during 2018 by Gender Focal Persons and the new GIZ Gender Strategy 2019 have been presented and discussed with the participants. In addition, the speech from Country Director – Mr. Carsten Schmitz-Hoffmann, who has shown the commitment of GIZ Afghanistan's Country management team's regarding the female empowerment. re-continuation of Female Leadership Program, to focus more on the quality than the quantity.
The training of Gender Focal Points to be the Gender Ambassadors in GIZ Afghanistan. Gender Ambassador are the ones who represent gender and promote gender activities according to the available resources in GIZ Afghanistan and in the country. The celebration has been ended by life music, finger food and socialization of all participants.
For further information about the event, please refer to the Gender Advisor to Country Director in GIZ Afghanistan, Fahima Attahi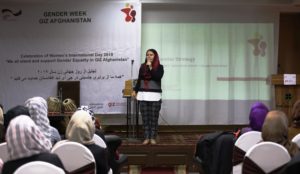 Gender week program-GIZ Afg_March2019

Contact Details
Name: Fahima Attahi
Email:
fahima.attahi@giz.de