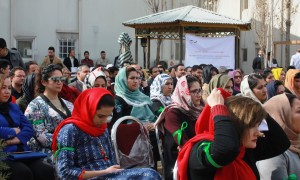 Promotion of gender equality is not just a commitment, but a guiding principle and a quality feature of our work in GIZ.
National and international colleagues from different projects of GIZ Afghanistan came together at Kabul GIZ Compound to celebrate the 8th of March, International Women's Day for the first time all together.
Hosted by Mr. Carsten Schmitz-Hoffmann Country Director of GIZ Afghanistan and prepared by the Gender Focal Points of projects, the half-day ceremony contained various items and topics, all focused on diverse aspects of women's role in Afghanistan and around the globe.
After inauguration of the event and recitation of holy Quran verses by Ms. Gulsar Habib, Mr. Sebastian Kessler – Director of Finance and Administration delivered the opening speech, pointing out the commitment of GIZ in promotion of gender equality. Then Mr. Aman Sultani – one of the gender focal points from the projects, read out a brief history of 8th March and why it has been celebrating as the International Women's Day worldwide. The next session was quite exciting, as two female colleagues of GIZ who are young poets, have recited few of their poetry mainly about women for around 300 colleagues who gathered to celebrate. Many colleagues said afterwards that they found the poems quite impressive and encourage the young ladies in their literary path.
The main point of this event was the panel dialog with participation of Mr. Volker Bescht, the head of Risk Management Office for Afghanistan, has talked about RMO support for women in critical situations, baby care taker and dispatch regulation. Dr. Müller-Gerold has talked on digital gender and how the modern digitalization can help women with examples of South Asian countries.
Mr. Sofizada has enlightened about the number of females in GIZ Afghanistan overall is 14% at national level and the HR policies in increasing number of females. The session has been moderated by Mrs. Fahima Attahi the Gender Advisor to Country management Team. Furthermore, it was a unique opportunity for the staff to see a lively discussion on "Women and Equality in GIZ Afghanistan" and asked their questions from the panelists.
The last two parts of the programme included a speech by Rule of Law colleagues – Mr. Rahmatullah Zeeraki he explained the process on how this project selected into the top 3 gender award of 2018. And the group work competition, colleagues tried their general information on famed women of Afghanistan and world, learning from answers.
At the end Mrs. Fahima Attahi has concluded the event as "let's commit and keep in our minds that, either in our personal life or official environment let's support gender, let's support women and let's stand for equality in our society" and invited colleagues for socializing lunch.
————————————————————————-
Contact: Fahima Attahi fahima.attahi@giz.de