What? Various national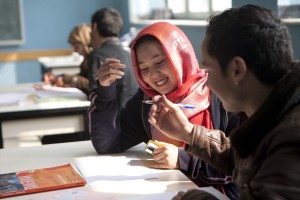 and international campaigns addressing men to engage for gender equality will be presented. A photographic exhibition on the celebration of the International Men's Day in Yemen 2014 will be shown and the program is accompanied by movies and video-clips from partner countries that will be screened throughout the day.
Where?  Foyer and Cafeteria, Friedrich-Ebert-Allee 40, GIZ-Bonn
When? 5th of March 2015, from 11:30 am
Contact persons: Anne Schuster, anne.schuster@giz.de and Astrid Meyer, astrid.meyer@giz.de
IMPRESSIONS OF THE EVENT:
An overview of the Videos about Gender Equality and the Role of Men and Boys will be provided in the Media Center.
 Please download a detailed documentation and illustration of the events organized in Bonn here: Gesamtdokumentation_Was_kann_MAN(N)_tun_5._Mrz_Bonn