A report by the Construction Section's Afghanistan team
SECTION "CONSTRU CTION IN INTERNATIONAL COOPERATION" (G230)
Mazar-e-Sharif, Balkh Province, Afghanistan
November 2019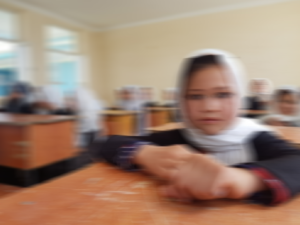 CONTEXT – Situation for women in Afghanistan
Afghanistan is one of the most difficult places in the world to be a woman
After more than 35 years of conflict, Afghanistan ranks 168 out of 189 of the world's
poorest countries on the UNDP's Human Development Index1. Over half of the population
lives below the poverty line, which hits women the hardest2. Especially those living in rural
communities often experience the most severe cases of socio-economic deprivation,
exclusion and vulnerability. Widespread and often violent disagreements about whether
women should be able to work or attend school outside of the home further restricts
women's opportunities to improve their condition. While major investments in expanding
access to education have resulted in substantial enrolment of boys and girls since 2001,
there are still 4.2 million children, of which 60% girls, not enrolled3. According to UNESCO,
87% of Afghan women are illiterate, only 2% of women have access to higher education
and they still face major barriers to accessing employment4.
Lack of infrastructure hinders education especially for young girls
Across the country, a lack of infrastructure is evident, as nearly half of all schools in
Afghanistan do not have buildings. Classes are often held in temporary spaces, in tents
or outdoors under the sunlight. In a region subject to frequent violence, this is an
unacceptably dangerous environment for young students. In addition to unsafe conditions,
a lack of dedicated school buildings means students do not have access to sanitary
facilities. For young girls, not being able to use the restroom and wash up in privacy is a
source of cultural shame so strong that many girls end their schooling entirely upon
reaching puberty.
Safe schools empower gender equality in education and society
When a safe new school facility is built, it truly changes the lives of those who live around,
especially in remote areas. In many cases it allows the neighbouring children to attend
school for the first time. In a proper school building, teachers are able to teach under
dignified circumstances and educate their students with a better quality. Providing access
to private, hygienic toilets at schools opens the door for thousands of girls to finally attend
school. Young girls and women, empowered to read and write, find jobs, and are able to
support themselves and their families in many ways. They can use their education for the
betterment of the health, education and economic situation of their families. And last but
not least this enables them to play a meaningful role, both within their homes and wider
communities, and to bring their voices to the decision-making table in powerful ways.
GOALS – Enabling education through construction measures
Construction makes development visible
The section "Construction in International Cooperation" (G230) supports, advises and
assists GIZ projects around the world in the conception, planning and implementation of
construction measures. We believe that buildings and infrastructure have a significant and
long-lasting impact and are an important tool of development cooperation.
For more than fifteen years we have been inspired and driven by the potential that is
inherent in German International Cooperation's support for Afghanistan and its people.
Within the construction section, the Afghanistan portfolio is the second largest and
currently consists of six projects, which are managed by the G230 Team Afghanistan in
Mazar-e-Sharif. One of them, the "Infrastructure North" project, financed by the German
Federal Foreign Office, is lead and implemented by the construction section.
Building a better future
The sustainable development program "Infrastructure North program (InfraNorth)"
(2016.9065.0) aims to provide on time and reliable services to local population in north
and north-east of Afghanistan. It targets marginalized and vulnerable groups, i.e. women
and girls, who need the most assistance. By developing and implementing infrastructure
projects in different sectors such as education, health, social protection and institutional
building, the projects contributed to the intended aim of Afghan government under the
Sustainable Development Goal (SDG) Five "Gender Equality"5 as well it contributes to
SDG Four "Quality Education"6. The program focuses on girls, based on the
understanding that girls who receive an education tend to marry later, have fewer children
and are less likely to contract HIV/AIDS as well as their children have a better chance of
survival and are more likely to go to school themselves.
> Enabling education for girls in Northern Afghanistan with InfraNorth
Through the InfraNorth program over 100 infrastructure projects were implemented in the
Northern and North-East provinces (Badakhshan, Takhar, Kunduz, Baghlan, Samangan,
Balkh, and Jawzjan). Of those nearly 30 schools, mostly for girls, have been built and/or
renovated, reaching a total of more than 25.000 children. The needs for those schools
have been suggested by the provincial councils and each one of these schools has
involved local support from the planning stage onwards. We work to ensure women and
girls get the education they deserve, so they can fulfil their potential and be change agents
in their communities. We believe that our work has a great impact on gender equality
specially in the remote villages of Afghanistan, and the overall country's future.
IMPACT – What we do to enable education for girls & women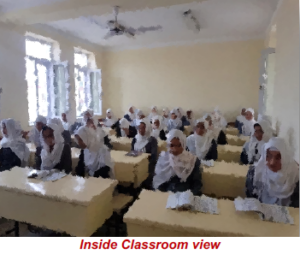 New girl's school building in Faizabad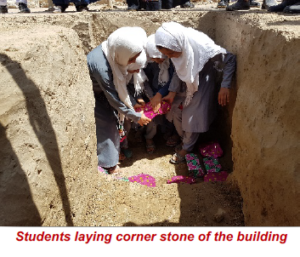 Students of this girl's school in Faizabad district, Jawzjan Province come from different villages in
the area. When the school was first set up in 2005 classes were held in tents. The hot, sunny days of
summer followed by the rainy days of autumn made it difficult for students to attend classes
comfortably. With the construction of new school building the student enrolment increased
noticeably, and now holds up to 700 students. The girls are grateful to be able to "go to the school
and study under fan, having access to clean drinking water, library and laboratory".
Ms. Fawzia, the principle of the school for the past twenty years, says that "during the hot and rainy
days, it was difficult for teachers and students to continue their lessons in the tents, but, now,
teachers and students do not need to worry as they have proper classrooms in a standard and
concrete building." She also added that "the new building enables us to perform much better than
in the past."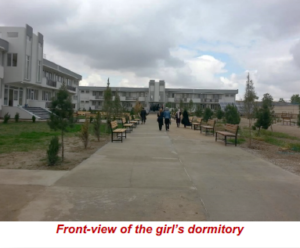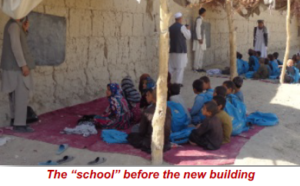 Before the construction of the new buildings, the female dormitory was placed in rental
houses at outskirt of Jawzjan, where security, living conditions, transportation to university
was very difficult. More than 20 students were living in one room of 20qm in the old muddy
building. The new buildings offer comfortable and appropriate living space for more than 500
female students, with fully equipped study areas, recreational areas and open space. It is
located close to the main building and provides a safe, dignified home for the female students.
Before the construction of the school building for "Tota-Wa-Habash" school in
Samangan, the classes took place outside which was difficult due to the noise and dust
from the road, as well as the summer's heat and winter's cold. Due to the new building
both girls and boys can get proper education. One of the students states that:
"Our lessons are much better and now I am confident that I will become a teacher,
which is what I want to be in future."
In all schools facilitated by the InfraNorth program a so-called "Management Shura",
composed of parents of students, teachers and community representatives, is
established. It acts as a bridge between the school and community and strengthens the
importance of education in the community. The buildings also enable teachers to organize
their administrative tasks and plan classes better. This allows for a more structured
approach to education and improves the overall quality of the education.